So the French Open has officially started and I'm happy to write my favorite kind of posts "When Tennis meets Fashion", and the first order of business is to take a look at Venus' apparel of choice.
Continuing on her "illusion" trend, the older Williams sister is creating a see-through illusion with her lace corset dress with a full skirt (same style a the orange one she debuted in Miami, this time replaced with lace). The dress is lined with skin color fabric and Venus once again wore those skin color booty tights. Now, I don't know what I think about this one. By now we all know that she's definitely wearing "something", but when she moves and the skirt flies up, even with the tights, it's hard not to see what's underneath and not immediately think that she's sans panties. It was cute the first time, but I'm not sure about the second time around. Maybe it's the fact it's lace, and the material itself is so French and so unconventional for tennis (not even Sharapova did lace before), that the nude undies seemed a bit overboard. Come on, we get the point, you're daring, you like to surprise people and believe in yourself, you're fashionable, yada, yada, yada...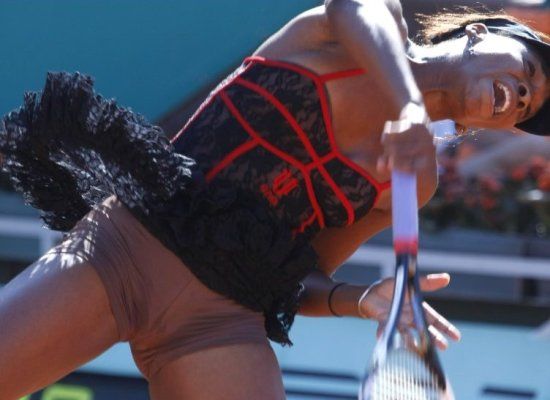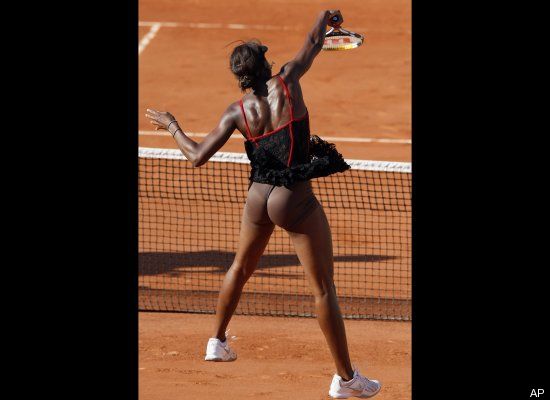 But, and it's a big BUT (no pun intended), I liked the silhouette and the idea of this dress from the get-go, even when it was burnt orange. The dress is feminine, it's short and voluminous, which suits well for Venus' longer frame. It's fancy, undoubtedly French chic, and the skirt moves well when Venus runs; my only complaint would be the neckline, I wish it was higher, it's disturbing to see her adjusts the top after every point. But all in all, I like the change in direction for Venus' on-court attire. But this dress leaves me confused. It would've been fine with a pair of black shorts instead of the nude, so it has nothing to do with styling mistake, just the idea and the image being portrayed, but it is what it is. At the end of the day, it's the game that wins you matches, not what you are wearing. So good luck Venus.